Careers & Employment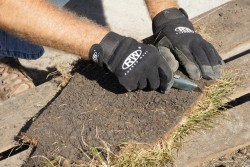 We are currently looking for team members to fill positions starting in Spring 2014!

Current Job Openings
Irrigation Technician
Currently accepting applications for a full-time irrigation technician to begin in Spring 2014. The ideal candidate will have experience in irrigation, turf, and/or landscaping. Must be reliable, technically-minded, and able to work independently. This position may require overtime during peak season. Will train the right person as needed. Must have valid driver's license. Pay based on ability and experience.
Landscape Installer
Seeking a full-time landscape installer to begin in Spring 2014. Job duties will include landscape construction, landscape maintenance, and equipment operation. Ideal candidates will be punctual, hard working, and reliable. This position requires some heavy lifting, overtime in peak season, ability to work in a team environment, and attention to detail. Those displaying excellent leadership may advance into foreman positions. Pay commensurate with experience and ability.
Employment Application

Download, Print, and Complete Employment Application.
Mail Completed Application to:
Stone Creek Landscaping & Nursery
2620 200th St.
Fort Dodge, Iowa 50501
Applications may also be picked up or dropped off during business hours.